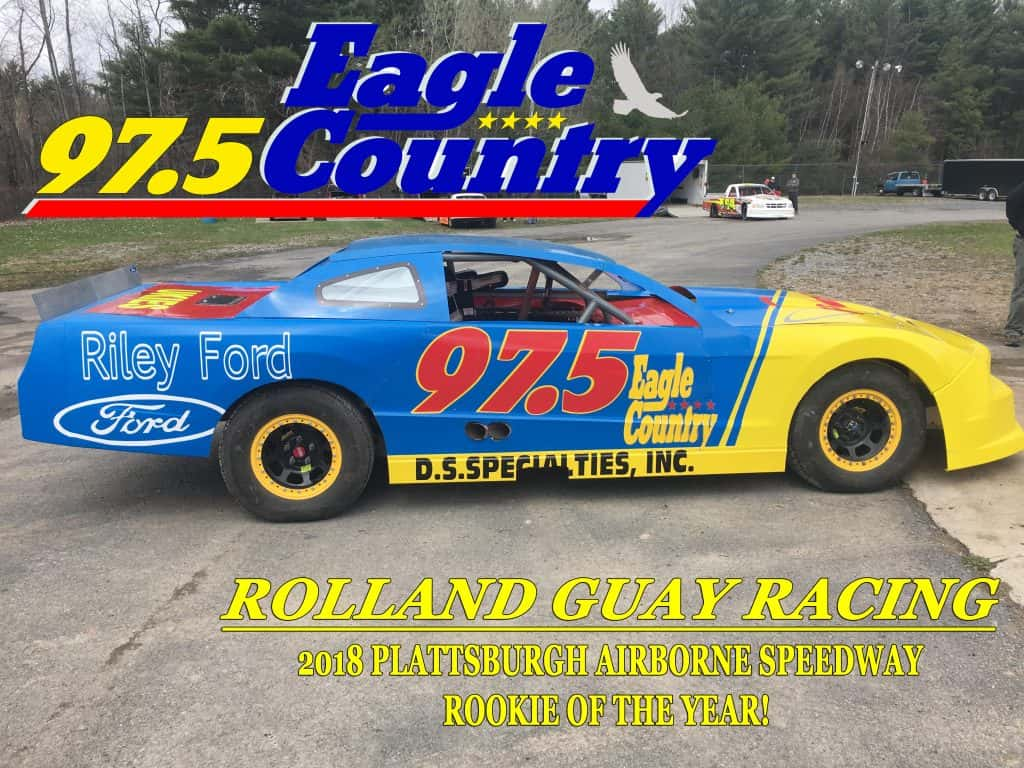 Eagle Country 97.5 is a proud sponsor of Rolland Guay Racing and the 97-5 Super Stock Car!  Catch the team at Airborne every Saturday Night!
○ Rolland is an aspiring local short track racer living in Mooers NY. He is currently a High School Senior at Northeastern Clinton Central School in Champlain NY where he participates in Cross Country, Track + Field, and Jazz Band and will be attending St. Michaels' College in the fall.
○ Rolland began racing Go-Karts 11 years ago at Plattsburgh Airborne Speedway as a rookie at age 7. Rolland had many wins and numerous Championships across many Divisions.
○ Following his father's footsteps, in 2017 Rolland at age 16 jumped into his first stock-car. He was quickly a crowd favorite among the fans with 4 wins, numerous top-five finishes and also won the 2017 Strictly Stock Champion at Airborne Park Speedway.
○ In 2018 Rolland moved into the Super Stock Division where the team's goal was for it to be a learning and building year. After a vicious flip on the backstretch in the early part of the season and nearly destroying his car, the team repaired the car and Rolland came back and finished with a respectable top ten in points and was crowned 2018 Airborne Rookie of the Year. Rolland, always a popular crowd favorite looks to build off last year's momentum for a good start to the 2019 Racing Season.
Rolland Guay Racing Sponsors: 
Crouse Heating and Air Conditioning