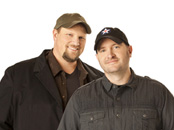 Big D and Bubba started in radio when they were 14 years old, Big D at a 1000-watt Christian radio station in Cookeville, Tennessee and Bubba at a local station in Houma, Louisiana.
Big D began hosting his first talk show on an oldies station in Cookeville by the time he was 17. His first country radio experience came when he was 19 in Billings, Montana where he fell in love with the country lifestyle.
Bubba has traveled the world and has worked at stations in places such as Guam and Tokyo. While working in those cities, he traveled extensively to countries and cities in Asia, Australia and the South Pacific. Eventually, he got homesick and returned to the U.S.
Big D and Bubba joined forces in 1996 after working different shows at the same station in Louisiana and have been together ever since!
Big D is also an Instrument Rated Private Airplane Pilot, and a big aviation buff. When he's not on the radio, you can usually find him tinkering around his hangar messing with his plane.
Bubba loves Frank Sinatra and is a self-proclaimed "car-nerd," spending his free time driving anything he can get behind the wheel of. Like Big D, he is also a Private Airplane Pilot.
Big D and Bubba's Podcast